Vul alstublieft uw loginnaam en uw wachtwoord in
Vul alstublieft uw loginnaam en uw wachtwoord in
KOMEND CONCERT
Eilen Jewell & Band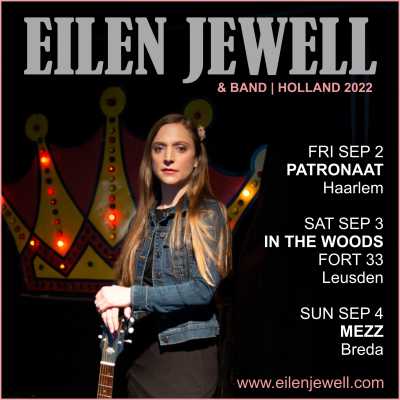 Eilen begon ooit haar carriere met zingen op straat om vervolgens met de pet rond te gaan in Santa Fe toen ze nog op college zat. Een goede leerschool kunnen we nu constateren. We zijn blij haar weer te mogen verwelkomen op ons podium.
As the reigning Queen of the Minor Key, Jewell leads a tight quartet that blends influences of surf-noir, early blues, classic country, folk, and 1960s era rock 'n' roll. The group has shared stages with the likes of Lucinda Williams, Loretta Lynn, Mavis Staples, Wanda Jackson, George Jones, Emmylou Harris, and Blind Boys of Alabama. Eilen's fans have marveled at her warmth and onstage humor alongside her beautiful songs and fiery performances. In addition to six of her own full-length albums, Jewell has released two albums with her country-gospel side-project, the Sacred Shakers; a tribute album to Loretta Lynn titled Butcher Holler;
Laatste nieuws
7 aug 2022 |
Changes & New Names!
Lynn Miles vervangen door Hello Darlins, Lynne Hanson en Michael Mc Dermott Komen terug!
3 jul 2022 |
Ad Vanderveen returns!
We zijn erg blij dat we Ad weer mogen ontvangen op een voor hem zeer bekend podium!
29 mei 2022 |
New Names Fall / Winter!
Vanaf heden kunt u boeken!